Hidden away in the picturesque village of Pendleton, near Clitheroe, The Swan With Two Necks is an award-winning pub popular among real ale enthusiasts and traditional food lovers.
The Swan with Two Necks features a traditional bar area with two open fires; a dining room perfect for larger group bookings and a vast amount of outdoor seating.
Booking is highly recommended to avoid disappointment. To reserve a table, please call 01200 423112. Any tables with 8 or more people require a pre-order.
Explore Our Menu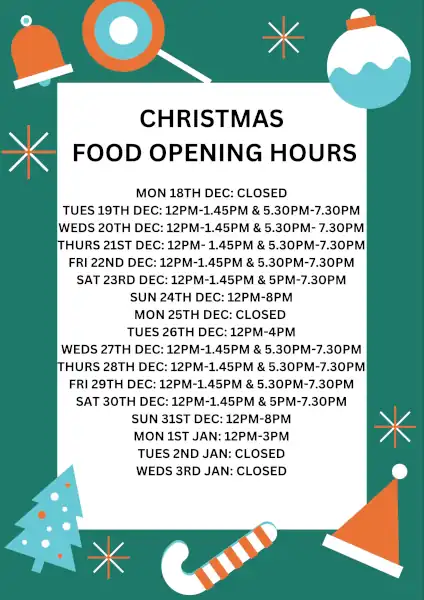 Friday 1st Dec to Sunday 24th Dec 2023
BOOKINGS ONLY
Groups of 8 or more must pre-order before their visit
2 COURSES £24.00
3 COURSES £28.00
View Christmas Menu
To Book
Please get in contact to check availability or to make a bookings. You can reach us on 01200 423112
---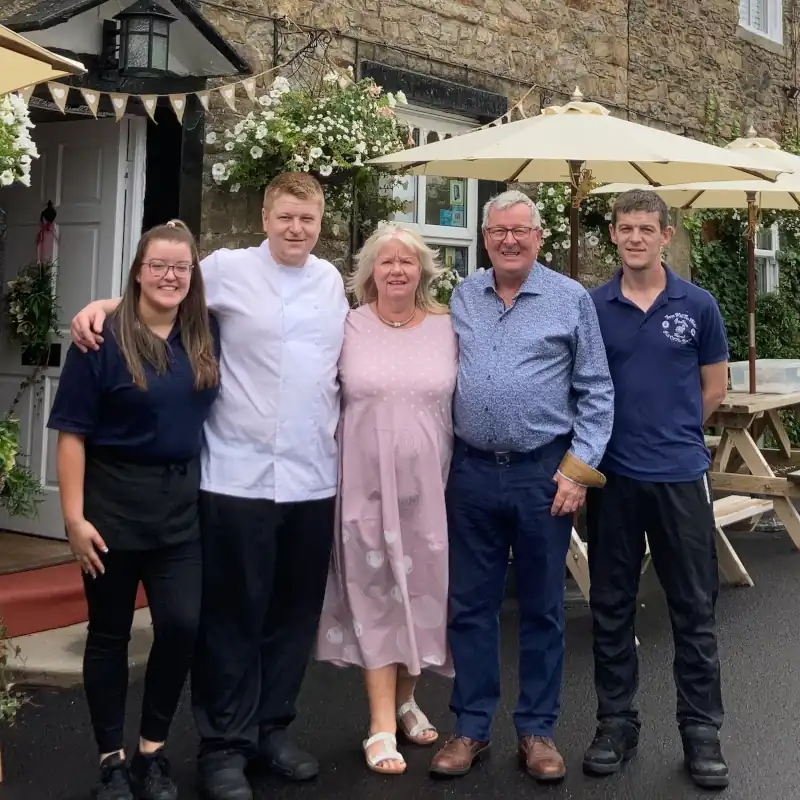 SWAN WITH TWO NECKS TEAM
The Swan with Two Necks has been run by Steve and Christine Dilworth since 1987. Now the pub is helped run by their family members Robert, Michael & Danielle, keeping the pub in the family name and allowing family values to continue.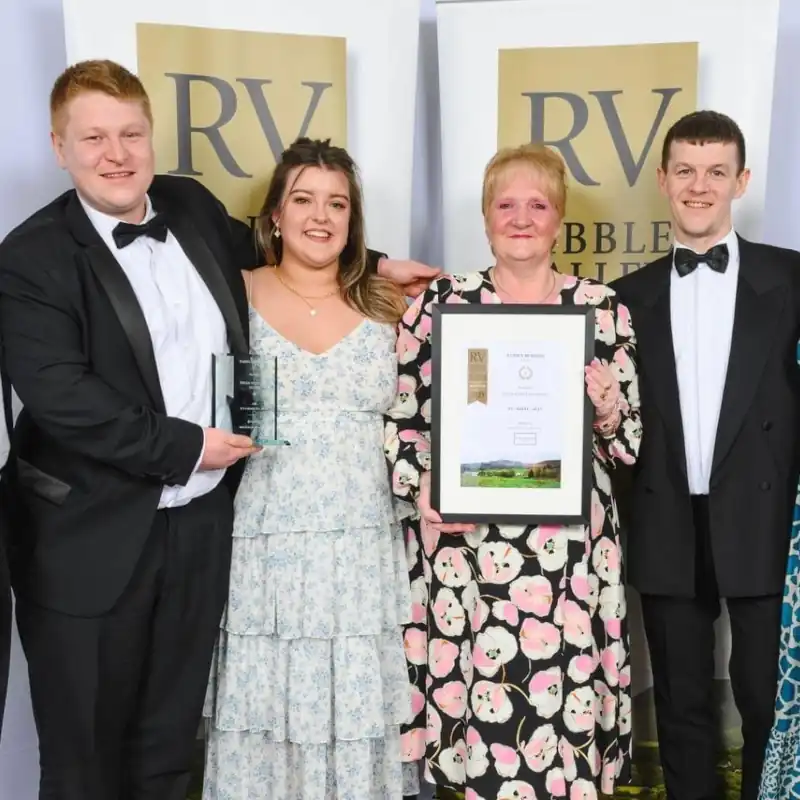 BEST FAMILY BUSINESS
WINNER
On March 23rd 2023 we were presented as winners of the 'Best Family Business' Award in the Ribble Valley Business Awards hosted at Mytton Fold.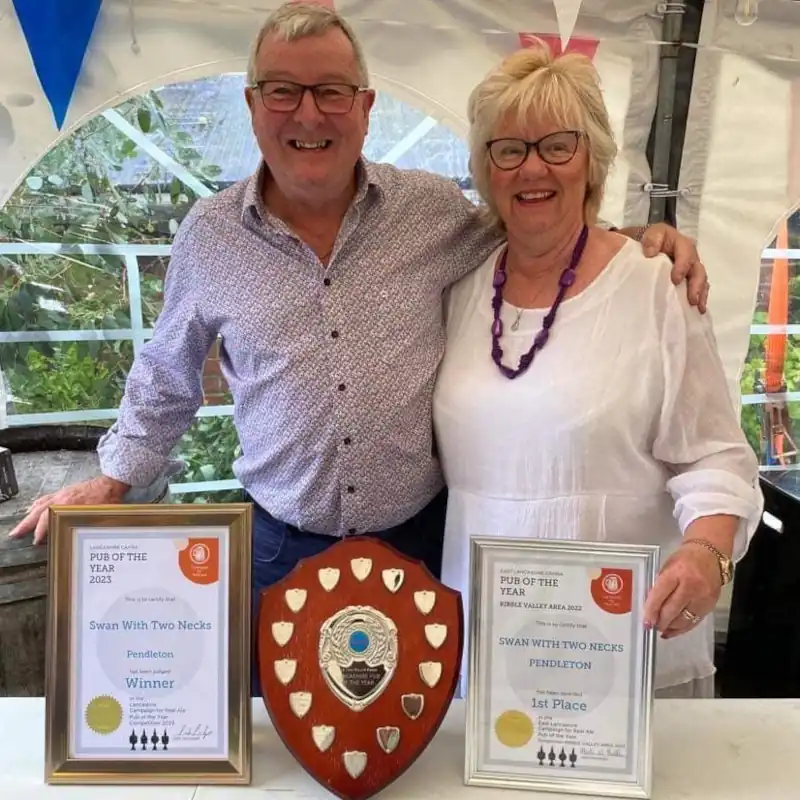 LANCASHIRE PUB OF THE YEAR 2023
On the 15th July 2023 we were presented with the 'Lancashire Pub of the Year 2023' award by CAMRA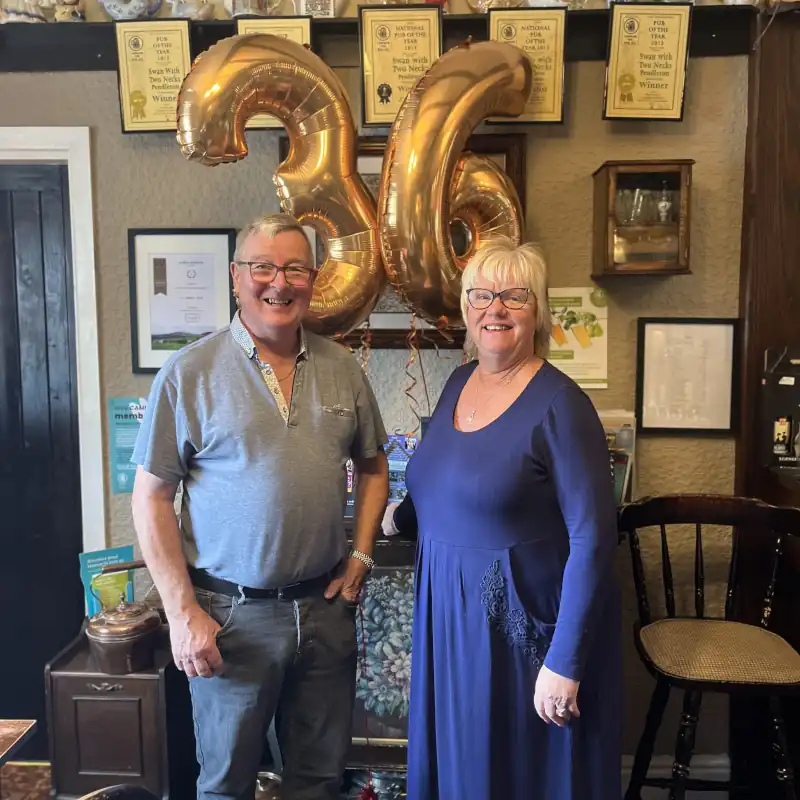 CELEBRATING
36 YEARS
Friday 25th August 2023 marked the 36th year of ownership by Steve and Christine Dilworth of the Swan with Two Necks.
Sunday Roasts at the Swan with Two Necks
On Sundays, we serve our popular Roast Beef with roast potatoes, cauliflower cheese and all the trimmings. Booking is essential to avoid disappointment, and when it's gone it's gone.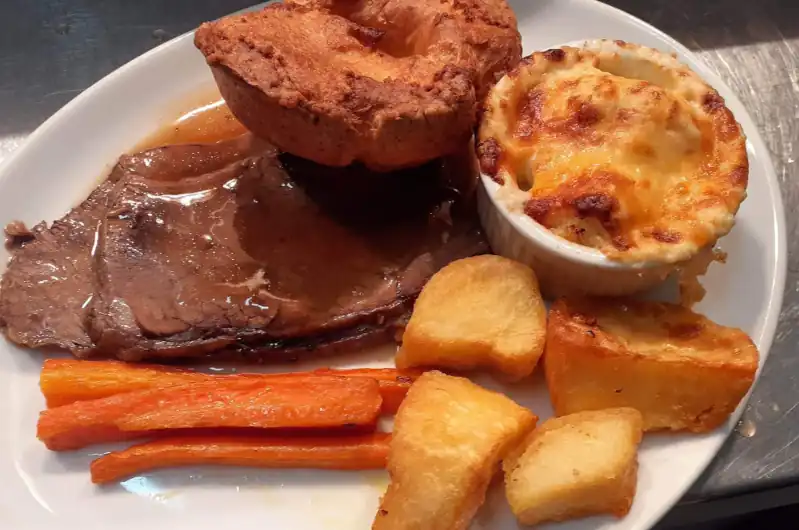 Alisonper100151
"Lovely atmosphere, fantastic food, good service and ability to deal with customers' queries about menu."
01.
W6896PNjens
"Food is superb and specials board is always something to look forward to. Home cooking is superb as everything is so tasty and hot."
02.
Michael N
"this is a little beauty of a pub ... sells a wide range of beers at reasonable prices (dortmunder pils) and has quite a good menu. Normally go for an afternoon light bite but went for afternoon lunch."
03.
maw747
"The pub that just goes from strength to strength, the multi-award winning family team take perfection and then adds their sprinkle of magic. The CMARA awards are heading this way and the beers are maintained in top condition (as always)."
04.
popsi2016
"The Swan With Two Necks is picture perfect, in a really pretty Lancashire village. The food is excellent , we have never been disappointed and the portions are generous."
05.
Birdy1968
"Old fashioned homely pub, went early and only just got a table. Seemed to be busy with locals which is always a good sign. We both had pie which were both delicious and packed full of filling. Great place for good pub grub and good value."
06.
matesidea
"We haven't been here for a while and decided to go for our lunch The menu was really good and the specials board. We opted for two roast beef dinners and we wasn't disappointed. We left very full and very happy"
07.
cliffs342
"It has a cosy warm atmosphere and plenty of 'Real Ale' choices. The food on offer is good and wholesome and full of flavour. Served piping hot with a portion that doesn't leave much room on the plate, we left the Swan having had our fill. The staff are nice and friendly and the service is excellent."
08.
DaveMBrad
"IExcellent Food, 5 real ales, traditional surroundings, you won't leave this place hungry. What's not to like. There were 4 of us, Steak, Gamon, Chicken pie and Fish pie. All were very good."
09.